Space Ghost's Companions
Council of Doom Members
Edit source
View history
Brak , also known as Voldemar H. Guerta is one of Space Ghost 's greatest villains, and much later, one of his companions. He was voiced by Keye Luke in Space Ghost and Andy Merrill in Space Ghost Coast to Coast , Cartoon Planet and The Brak Show . In Brak's first appearance on Space Ghost Coast to Coast , he was originally voiced by C. Martin Croker .
Brak is a member of the Council of Doom .
Brak appeared in various promotional materials for Cartoon Network and Adult Swim .
In Europe, Brak was the co-host of Toon:FM alongside Johnny Bravo . He was voiced by UK-based voice actor Dan Russell in Toon:FM . Russell would eventually use the same voice for Richard Watterson from the Cartoon Network original series The Amazing World of Gumball .
1 Physical Appearance
6 References
Physical Appearance [ ]
Brak is a cat-like alien who wears a Polynesian-esque orange and black mask with a yellow Keffiyeh . He has golden fur and green eyes. He wears a blue and black outfit with orange gloves and blue-toed shoes.
In Space Ghost Coast to Coast and its spin-offs, Brak's mask is red-colored.
In the original cartoon and Comico comic , he sometimes had whiskers.
Brak is the son of Mom , an alien, and Dad , who appears human. He also had a brother named Sisto , who is of the same race as him and Mom.
History [ ]
During his adolescence, Brak lived with his family and attended the Learnmore High School , along with Zorak . Zorak often got Brak into trouble, such as the time when he encouraged Brak to kidnap Mr. Bawk Ba Gawk , the school's mascot. ( The Brak Show : Bawk Ba Gawk ) Brak once stated that his planet is Polynesian.
In Space Ghost , Brak was a space pirate who stole treasure from ships. He was also more intelligent than in Space Ghost Coast to Coast .
In Space Ghost Coast to Coast , Brak is a dim-witted character. He tends to act weird. It is explained in Cartoon Planet , the reason why Brak acts like it is, because he suffered from brain damage after the events of the Space Ghost episode " The Lure ".
Brak's name usually rhymes with Crack . In the Council of Doom arc from the original cartoon, Brak's name is pronounced to rhyme with Brock .
Brak and Sisto's designs appeared to be based on lions.
In 2000, Brak ran for president. He lost to Scooby-Doo .
In 2018, Brak was featured on the Dr. Demento album Dr. Demento Covered in Punk , covering "Institutionalized" by the band Suicidal Tendencies. [1] The band The Meatmen also covered the Cartoon Planet song " I Love Beans " in the same album.
Andy Merrill has performed a puppet version of Brak for his YouTube channel since 2020.
Gallery [ ]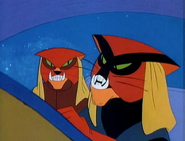 References [ ]
↑ https://www.stereogum.com/1978397/please-enjoy-brak-covering-suicidal-tendencies-institutionalized/music/
3 Space Ghost
Brak as he appears in Cartoon Planet
Brak was a villain in the original Space Ghost, but in Space Ghost Coast to Coast and Cartoon Planet, he is a more lovable yet dim-witted character. He was also the main character of the Brak Show . Brak is a member of the Council of Doom .
Space Ghost [ ]
Brak was in at least two episodes of the original Space Ghost but had whiskers and looked more like a cat. He also was evil.
Brak was a recurring character in Space Ghost Coast to Coast.
Cartoon Planet [ ]
Brak is a main character in Cartoon Planet, despite making barely any appearances in SGC2C.
1 Kentucky Nightmare
2 Baffler Meal
The Brak Show

EP 1 Goldfish
Before going on vacation, Thundercleese asks Brak to take care of his beloved goldfish, Mr. Tickles. After Brak accidentally kills the goldfish, it appears in one of his dreams.
EP 3 Time Machine
Instead of doing homework, Brak and Zorak waste their entire weekend playing video games. As punishment, Dad decides that they will not be allowed to go to Brak's favorite fish restaurant, Fishpockets. Desperate, Brak and Zorak try using Thundercleese's time machine to remedy the situation.
EP 5 Bawk Ba Gawk
Right before the big game, Brak and Zorak decide to kidnap their high school mascot, a chicken named Mr. Bawkbagawk. Brak takes the mascot to his house to hide it and presents it to his parents as his father's uncle: Earl Toteman.
Zorak introduces his new friend Mobab, who immediately starts hitting on Mom, offering to take her on a trip. Because Mom wants to make Dad jealous, she agrees. Instead, Mobab kidnaps her and traps her in a cocoon. Dad and Brak must come up with a plan to free her.
EP 7 Expiration Day
Thundercleese's parent company, MoroccoBotix, Inc., deactivates him on his birthday. So depressed is Thundercleese that he stops caring for his yard, usually his pride and joy. When an asteroid is discovered to be on a collision course with their neighborhood, Brak and Dad need Thundercleese to save them.
EP 8 Psychoklahoma
Dad and Brak's favorite TV show is called "Senor Science." Senor Science himself is trapped in a block of ice, so he convinces Brak and Dad to purchase the Senor Science melting kit. Brak can't afford to pay for the melting kit, so he decides to raise the money with a play.
EP 4 President Dad
Dad gets upset with the neighborhood association and decides to run for its presidency. With the help of Brak and Zorak, he puts an ad in the newspaper filled with lies about the current president, Galrog. In retaliation, Galrog challenges Dad to a public debate.
EP 8 The Runaway
Space Ghost travels back in time to arrest Brak for crimes committed in the future.
EP 11 We Ski In Peace
It's "Take Your Son to Work Day" and Brak is bumming because his dad doesn't have a job. Also, giant ants.
Leave It to Brak
Brak baby-sits Mr. Thundercleese's goldfish, Mr. Tickles, while he's away.
The Brak Show
Former 'Space Ghost' villains Brak and Zorak live their lives in sitcom form. Former 'Space Ghost' villains Brak and Zorak live their lives in sitcom form. Former 'Space Ghost' villains Brak and Zorak live their lives in sitcom form.
Jim Fortier
Andy Merrill
C. Martin Croker
George Lowe
16 User reviews
3 Critic reviews
Episodes 29
George Martinez …
Mr. Tickles
All cast & crew
Production, box office & more at IMDbPro
More like this
Did you know
Trivia Brak's father was never originally intended to be so short. An error was made when compositing a scene and Dad's file was made too small in comparison to everything else. Nevertheless, it was such a hilarious mistake that they left him they way he was.
Brak : Mr. Tickles, how do y-how do you think Thunderclese is gonna take this?
Mr. Tickles : Oh my God, he'll tear your arms off!
Brak : But I love my arms! That's where my hands live!
Connections Follows Space Ghost (1966)
User reviews 16
Jan 31, 2003
How many seasons does The Brak Show have? Powered by Alexa
December 21, 2000 (United States)
United States
Adult Swim (United Kingdom)
Primal Screen
Williams Street
See more company credits at IMDbPro
Technical specs
Related news
Contribute to this page.
See more gaps
Learn more about contributing
More to explore
Recently viewed