Ghostlight Marsh
The Ghostlight Marsh is named for the will-o'-wisps that dwell within its murky depths. The willow-o'-wisps are not thought to have always been a part of the marsh, in fact they are believed to be the results of a single great sacrifice made within the marsh. This sacrifice was made in 4237 AR when the orcs of the Hold of Belkzen pushed their southern borders further into Lastwall . While most fled in the face of the orc horde, a few stood fast defending their homeland. One of these groups was the Council of Thorns who opposed the devastation the orcs were wrecking on the land. They were gradually forced back to the swamp between the Flood Road and the River Esk , their final act a sacrifice of themselves in a bloody ritual. As their blood mingled with the swamp water, dozens of lights rose from the murky swamp. The willow-o'-wisps have guarded the Ghostlight Marsh ever since though rumor has it they do not attack those in tune with the natural world. [1] [2]
References [ ]
↑ James L. Sutter . (2008). The Hold of Belkzen. Skeletons of Scarwall , p. 61. Paizo Publishing, LLC . ISBN 978-1-60125-099-5
↑ James L. Sutter . (2008). The Hold of Belkzen. Skeletons of Scarwall , p. 62. Paizo Publishing, LLC . ISBN 978-1-60125-099-5
1 List of harrow cards
Pathfinder: Giantslayer
Ghostlight marsh.
The Ghostlight Marsh, sometimes called the Ghostlake Marsh, is named for the will-o'-wisps that dwell within its murky depths. The will-o'-wisps are not thought to have always been a part of the marsh, in fact they are believed to be the results of a single great sacrifice made within the marsh. This sacrifice was made in 4237 AR when the orcs of the Hold of Belkzen pushed their southern borders further into Lastwall. While most fled in the face of the orc horde, a few stood fast defending their homeland.
One of these groups was the Council of Thorns who opposed the devastation the orcs were wreaking on the land. They were gradually forced back to the swamp between the Flood Road and the River Esk, their final act a sacrifice of themselves in a bloody ritual. As their blood mingled with the swamp water, dozens of lights rose from the murky swamp. The will-o'-wisps have guarded the Ghostlight Marsh ever since though rumor has it they do not attack those in tune with the natural world.
Ascendant campaigns can view previous versions of their pages, see what has changed (and who did it), and even restore old versions. It's like having a rewind button for your campaign.
We've already been saving your edits, so if you upgrade now you will have instant access to your previous versions. Plus, you have our no risk refund guarantee , so there's nothing to lose.
Giantslayers
The river journey, giantslayer session 4 part 4.
Bloodtusk's keelboat The Chellish Devil weighs anchor and sets off on the river journey first thing in the morning after the dwarves arrive. Captain Bloodtusk makes it abundantly clear on the first day that they are not idle tourists; Halgra negotiated working passage for the dwarves, and they must make themselves useful while aboard. Bloodtusk expects everyone to help row the riverboat as well as perform other duties. The jobs include Cooking, Fishing, Lookout, Rowing, Sounding and Stable Mucking. The dwarves paid for Bartimaeus Baedard passage so he didn't have to do any jobs so he could work on crafting magic items.
As the Heroes began to do their jobs on the first morning of the trip, Thorin fell into the river while fishing and was attacked by multiple crocodile. Ash tried to catch the boat on fire with produce flame. Thorin brought the dead crocs on board so the ship was eating well for a couple days.
As the next day came on the boat was attacked by a pack of River Drakes trying to steal one of the war rams. Thorin cleaved the Alpha Drakes head off ending the threat. The dwarves stopped the boat and raided the lair of the Drakes.
Bakkara, The Horror from the Mwangi Expanse "escaped" his cage and attacked the crew of the boat, he was restrained after the request of the Captain because it being valuable merchandise.
Leading our heroes to begin to investigate a possible saboteur, they found a secret smugglers hold and bilge that Melira had stowed away in and was trying to kill the heroes. An epic battle erupted on the bottom of the boat with Melira and her snakes. The heroes were victorious against the saboteur.
The boat the next day was scheduled for a stop and a deliver good to a Knights of Ozum waystation. The station was under attack by orcs and wolves the dwarves cleared them out after a difficult fight.
Visions in the Night
Giantslayer session 4 part 3.
In the middle of the night before the heroes left to sail down the River Esk Brantos Calderon wakes them with urgent news.
Katrezra needs to see them immediately over visions he is having. As the dwarves come to the Sanctuary they are met by the crippled half orc. He says he has been having visions that have been troubling him and he wants to tell them before they leave.
The main point from each of these visions were:
There is another
A Giant Riding Dragon over a Great Cathedral
Beware of The Harbinger of Decay
Unite the Family
After he explained the visions and his interpretations he left the dwarves to their own devices.
The Meeting with Council of Defenders
Giantslayer session 4 part 2.
The Heroes are summoned to meet with the Council of Defenders. The group is led by Halgra of the Blackened Blade the Council of Defenders is worried that the town's orc troubles are far from over. Thanks to the heroes, the orcs' hill giant chieftain, Grenseldek, was unable to recover the items she sought from Uskroth's tomb, and the council fear another attack on Trunau in the near future. To that end, Halgra asks the dwarves to go to Grenseldek's lair—an abandoned outpost near the River Esk called Redlake Fort—and deal with the giant chieftain and her orc tribe before they can attack Trunau again. Due to their recent heroism during the orc raid and in Uskroth's tomb, Halgra believes they are best suited to this task, as Trunau's militia and citizenry are needed to rebuild the town's defenses after the orc attack.
Halgra introduces the Silvermane to the council, Silvermane is mute, and communicates through a form of sign language that Halgra can understand and translate. With her help, Silvermane tells the council and the dwarves about the Vault of Thorns, a demiplane created by the druidic Council of Thorns, of which he was once a member. The entrance to the Vault is located within Ghostlight Marsh, a swamp to the northeast surrounding the confluence of the Kestrel and Esk rivers. Silvermane informs them that the Vault contains a cache of items that can help in their fight against the Twisted Heart menace, though he has no specific details about the items. To find the Vault of Thorns, the dwarves should look for a marker in the form of a circle of thorns carved into a stone near the banks of the River Esk. This marker will put them on the right path through the swamp to find the Vault, but the entrance to the demiplane is hidden. Silvermane informed the heroes that the Ghostlight Lantern that he let them use during the raid is key to entering The Vault of Thorns. According to Silvermane, if the husk of a dead will-o'-wisp is placed inside the lantern, the lamp will produce a beacon that points to the circle of standing stones that marks the Vault's entrance. Once the they reach the druidic circle, they need only wash the supernaturally fueled lantern's light over the central standing stone to open the portal into the Vault of Thorns.
Halgra informs the dwarves that she has already secured passage for them aboard a keelboat that regularly plies the rivers of southern Belkzen. The riverboat's captain, a half-orc named Raag Bloodtusk , has agreed to transport them to Ghostlight Marsh and then up the River Esk to a location near Redlake Fort in exchange for the their efforts in helping sail the boat and defending it from any dangerous river denizens. Halgra explains that overland travel to Redlake Fort would be foolhardy and dangerous, as it would take them right through the orc-infested Hold of Belkzen. Bloodtusk's riverboat, on the other hand, is well known among the orc tribes along the river, and the gladiator-turned-riverboat-captain enjoys rights of safe passage from these tribes' chieftains, which makes a river journey far safer than traveling overland. Before they left, Halgra gave them a letter of introduction to give to Bloodtusk, who is waiting for them on the southern bank of the Kestrel River.
The Hanging of Skreed Gorewillow
Giant slayer session 4 part 1.
After the heroes captured Skreed and turned him over to the authorities, they had a couple days of peace as they attempted to identify the magic items with the help of Agrit Staginsdar . They were able to identity everything besides the artifact hammer. The dwarves were summoned to speak with Ormrok Stonehammer about the coming future and the will of Torag. For the mission they are about to undertake they are the chosen ones of the clan. They were each given a sacred brand that helps the communicate with each other and answer the call of Torag as needed.
On that evening Skreed was to be hung from his neck until he was dead. As he was being hung Thorin and Ash spotted a suspicious woman in the crowd. They ran her down Thorin cornered her but she was able to become invisible and escape from the party.
Tomb of The Hill Giant Hero
Giantslayer session 3 part 3.
The Battle of Bloodmarch Hill
After breaking the Siege of Trunau our heroes follow a mysterious individual into the hole Crusher broke into the side of Bloodmarch Hill. As the dwarves descended down over 100 feet they found a flooded clearing with no signs of their prey, they were swarmed by shadow rats. With a good use of Alchemical Fire and Acid they were able to wipe out the swarm. As the Dwarves adventured deeper into the caves they found a chamber full of Hill Giant Skeletons two animated to attack and Thorin being weakened by the Shadow Rats became a living wall holding off the pair of skeletons while the other heroes defeated them. The dwarves come upon a treasure horde and as they begin to assess their rewards the architect of all their problem comes up from behind them Skreed Gorewillow Skreed came upon the heroes with his trained Dire Wolves this was an epic combat that left the heroes battered and bruised but victorious and quite a bit richer than before they entered the Tomb of The Hill Giant Hero
The Hopespring Giant
Giantslayer session 3 part 2.
The Cave Giant Crusher with his group of handlers had busted open a hole in the side of Bloodmarch Hill. The dwarves were victorious in this dangerous combat as Crusher was almost able to incapacitate multiple dwarves in a single swing of his great chain.
After Crusher was defeated the dwarves barley had time to recover when Kurst came upon them with the news that someone had gone down into the hole created by Crusher in the side of Bloodmarch Hill.
Orcs at the Barricades
Giantslayer session 3 part 1.
The Dwarves joined by Omast Frum had the difficult task to defend the Western Gate of the Inner Quarter from a full assault from the Twisted Heart Clan. With great tactics and use of the defenses gathered by Omast the dwarves were victorious repelling the assault until the rest of the guard could shore up the destroyed gate.
The heroes raced to the Hopespring to light the beacon, Silvermane helped them recover with a short trip to the Vault of Thorns to rest heal and recover their spells.
After leaving the Vault of Thorns our heroes helped destroy one of the last siege engines of the Twisted Nail Raid.
Trunau Under Siege
Giantslayer session 2 part 2.
The Dwarves preparing for an imminent assault by the orcs gather with many of the townsfolk for the funeral of Rodrik Grath during the funeral the orc raid begins With orders to light the beacons from Kurst Grath the Dwarves begin to make their way through Trunau. At the Commons Beacon they encounter a lynch mob after Brinya Kelver this was quickly put down between some fine words from Goldorn Greyoath and threating words from the rest of the party. From her gratefulness Brinya gives the heroes Brinya's Love as thanks for all they have done. After they make it to the Inner Quarter the beacon their had been destroyed but Kurst again shows up planning on leading a calvary charge upon the siege engines of the orcs gives the players the orders to secure the Inner Quarter. The dwarves find Agrit Staginsdar house a blaze with Sara Morninghawk stuck inside. The heroes rescue Sara while meeting their first batch of Orcs from the Twisted Nail Clan. Agrit as repayment for saving Sara gave the dwarves her Pearl of Puissance The next major threat the Dwarves faced was at The Killin' Ground where Rishka and some Freedom Town Thugs has taken over the bar and killed most of the patrons. Rishka almost killed Jarn Diefenbach of Clan Brandberg with a early well placed Ax strike. The heroes saved Rabus Clarenston who promised them drinks for life which he might live to regret. As the heroes made their way through the Inner Quarter killing multiple orc looters they found one of the leaders of the raid Kagak of The Rolling Thunder in one of the towers after a long hard fight Kagak was finally brought low. As the Dwarves continued to clear out the Inner Quarter of threats they found Urnsul and Vorom mugging a merchant from last wall. As Urnsul was dieing she tried to ask for mercy but bled to death as the dwarves discussed what to do with her. The heroes found Silvermane half dead but they healed him and he said look for him at the standing stone by the hopespring The heroes finally secured most of the Inner Quarter and found their old drunken friend Omast Frum preparing for another assault from the Twisted Orc Clan.
The Plague House
Giantslayer session 2 part 1.
Battle of Bloodmarch Hill
As the Dwarves investigate the Plague house and dig deeper into the coming threat. After dealing with multiple vermin the heroes find Daktani meeting with a group of Flood Trolls beneath the Plague House, all the trolls were slaughtered by the Dwarves and Daktani was taken into custody. Their was more evidence that Skreed and his crew are digging for something under Trunau.
Giant Slayer Session 1
A death at the ramblehouse.
The Dwarves wake up to the screams of Cham Larringfass as she finds Rodrik Grath dead in room from apparent suicide with his Hope Knife.
After talking with Kurst Grath they were asked to investigate the death because he couldn't believe his brother would commit suicide.
There were a few leads for the heroes to investigate
Lead 1 The Ramblehouse : From the Ramblehouse they discovered a Tall Blond Human with facial scars paid for a room with Platinum and would not his name in the ledger, They also found Rodrik's hopeknife receipt, and a mysterious letter to Melira from someone unknown.
Lead 2 Brinya Kelver: From Brinya they learned that the Hope Knife Rodrik used was not his own and that he has a Journal that he wrote about everything in.
Lead 3 Omast Frum : From the Drunk Omast the heroes found out about Rodrik Graths relationship with Katrezra
Lead 4 The White Swords: These white swords are not swords at all but Twisted Nails and the alchemical paint he proven almost impossible to remove.
Lead 5 The Sanctuary From Tyari Varvatos and Brantos Calderon the heroes learn of Katrezra and more of his relationship with Rodrik, but also that he has been missing since the day of his murder.
Lead 6 Clamor From Sara Morninghawk they learn of the missing Hope Knife and the smith Urnsul. Katrezra has been hiding at clamor since Rodrik's murder and he gives the heroes Rodriks Journal that points to The Plague House
Through their investigation the dwarves were attacked twice. Once in the street by a pack of trained wolves, another time in their rooms at The Ramblehouse by Freedom Town Assassins
Ingrahild Nargrymkin
Ingrahild Nargrymkin is a NPC Dwarf played by Troy Lavallee on the Glass Cannon Podcast .
Background [ ]
Ingrahild first encountered the party in Ghostlight Marsh. The dwarven woman had been infected with madness and almost beheaded Lorc before the party was able to cure her. She and her brother, Umlo, had been searching for the grave of their ancestor, Nargrym Steelhand, when they had been set upon by a group of witches. The dwarven siblings were able to kill most of the witches before Ingrahild was infected with madness.
She traveled with the party to the Vault of Thrones and later to Redlake Fort to rescue her brother from the army of orcs, ogres, and giants who inhabited the fort.
Ingrahild died in the tomb of her ancestor, Nargrym Steelhand. Her brother and Barron Redheart, who had developed a crush on Ingrahild, were particularly devastated by her death.
1 Grant Berger
2 Get In The Trunk
3 Joe O'Brien
Giantslayer 5e
He has long, braided silver hair framing his pale face, light green eyes, and a slight frame garbed in dirty clothes.
Description:
Silvermane is a high elf master druid (CR 6) capable of casting 4th level spells. He does not own any magical items of reknown. He spends much of his time exploring the area around Trunau searching for hidden locations or bits of lore and history for some unknown end. He is mute but not deaf and communicates via sign language.
Common belief is that Silvermane is a native of Iadara in Kyonin who followed an internal call to journey west and eventually fell in with a cabal of druids known as the Council of Thorns in Ghostlight Marsh. Many years ago, that cabal was disrupted and Silvermane was its sole survivor. He fled the marsh and found sanctuary in the border settlement of Trunau, where he has become a recluse who occasionally helps defend the town from orc attack or heal a citizen's injury with magic.
Planetary Defense
Remembering the Chelyabinsk Impact 10 Years Ago, and Looking to the Future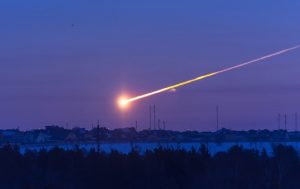 On Feb. 15, 2013, the people of Chelyabinsk, Russia, experienced a shocking event, and yet it was a small fraction of the devastation an asteroid on a collision course with Earth could yield. As NASA's Planetary Defense experts reflect on the Chelyabinsk impact 10 years ago, they also look forward to the future and all that the agency has since accomplished in the field of Planetary Defense.
Harmless meteoroids, and sometimes small asteroids, impact our planet's atmosphere daily. When they do, they disintegrate and create meteors or "shooting stars" and sometimes bright fireballs or bolides. Such was the case on Feb. 12 when a very small asteroid impacted Earth's atmosphere over Northern France soon after discovery, resulting in a spectacular light show for local onlookers. Much more rarely, a larger asteroid that is still too small to reach the ground intact, yet large enough to release considerable energy when it disintegrates, can do significant damage to the ground. On Feb. 15, 2013, one such bolide event garnered international attention when a house-sized asteroid impacted Earth's atmosphere over Chelyabinsk, Russia, at a speed of eleven miles per second and exploded 14 miles above the ground. The explosion was equivalent to 440,000 tons of TNT, and the resulting air blast blew out windows over 200 square miles, damaged buildings, and injured over 1,600 people – mostly due to broken glass. Due to the asteroid's approach from the daytime sky, it was not detected prior to impact, serving as a reminder that while there are no known asteroid threats to Earth for the next century, an Earth impact by an unknown asteroid could occur at any time.
Coincidentally, negotiations sponsored by the United Nations were finalizing formal recommendations for the establishment of Planetary Defense-related international collaborations – the International Asteroid Warning Network  (IAWN) and the  Space Missions Planning Advisory Group  (SMPAG) – when the Chelyabinsk impact occurred. Since then, NASA established the agency's  Planetary Defense Coordination Office  (PDCO) in 2016 to oversee and coordinate the agency's ongoing mission of Planetary Defense. This includes acting as a national representative at international Planetary Defense-related caucuses and forums, such as IAWN and SMPAG, and playing a leading role in coordinating U.S. government planning for response to an actual asteroid impact threat if one were ever discovered. The PDCO also funds observatories around the world through NASA's Near-Earth Object (NEO) Observations Program to find and characterize NEOs – asteroids and comets that come within 30 million miles of Earth – with a particular focus on finding asteroids 460 feet (140 meters) and larger that represent the most severe impact risks to Earth. To help accelerate its ability to find potentially hazardous NEOs, NASA is also actively developing the agency's NEO Surveyor mission , which is designed to finish discovery of 90 percent of asteroids 140 meters in size or larger that can come near Earth within a decade of being launched.
In 2022, working together with the Italian Space Agency, NASA's   Double Asteroid Redirection Test (DART) mission successfully demonstrated the world's first-ever test for deflecting an asteroid's orbit. Launched in 2021 , DART successfully collided with a known asteroid – which posed no impact threat to Earth – demonstrating one method of asteroid deflection technology using a kinetic impactor spacecraft. Since DART's impact, Planetary Defense experts have been continuing to analyze data returned from the mission to better understand its demonstrated effects on the asteroid, which contributes to the understanding of how a kinetic impactor spacecraft could be used to address an asteroid impact threat in the future if the need ever arose.
The Chelyabinsk impact was a spark that ignited global conversation in Planetary Defense, and much progress in the field has occurred since then. However, there is still more work to be done, and NASA is actively at the forefront. In addition to building NASA's NEO Surveyor to find the rest of the population of asteroids that could pose a hazard to Earth, the agency is considering a "rapid response reconnaissance" capability to be able to quickly obtain a more detailed characterization of a hazardous asteroid once it is discovered. NASA is also considering sending out a reconnaissance spacecraft to study an asteroid making a close approach to Earth in 2029.
"A collision of a NEO with Earth is the only natural disaster we now know how humanity could completely prevent" said NASA Planetary Defense Officer Lindley Johnson. "We must keep searching for what we know is still out there, and we must continue to research and test Planetary Defense technologies and capabilities that could one day protect our planet's inhabitants from a devastating event."
Learn more about  NASA's Planetary Defense Coordination Office
Keep up to date on NASA's Planetary Defense efforts by following Asteroid Watch on twitter
Five Years after the Chelyabinsk Meteor: NASA Leads Efforts in Planetary Defense
Around the World in Four Days: NASA Tracks Chelyabinsk Meteor Plume
Science Papers on Chelyabinsk Meteor Findings
Category : Council of Thorns/Locations
Pages in category "council of thorns/locations".
This category contains only the following page.
Ghostlight Marsh
Council of Thorns
Locations by organization
Beginner Box
Accessories
Organized Play
Subscriptions
Compatibility
Average product rating:
Sign in to create or edit a product review.
The Hill Giant's Pledge Review
Warning: This review contains spoilers Written from a GM's perspective I ran this for 4 PCs
My gaming group has completed book 2 of the Giantslayer adventure path and my overall impression is that this adventure had many of the same strengths and weaknesses as the first book. It is full of content which is thematically interesting and contains plenty of opportunity for roleplaying, perhaps more than one might expect from a clearly combat focused Adventure Path. However, I found the overall enjoyment of the table was somewhat diminished by how frustrating and deadly the adventure often became.
First I will talk about the good aspects of the adventure path. Like with the first book, I felt that the encounters were designed to be interesting. The Vault of Thorns was packed with variety of different creatures that offered a welcome break from the hordes of orcs in the first book. The final section of the book was a little more repetitive as far as creature type, but there was still enough variety and opportunities to interact in ways other than straight combat that the game didn't feel stale. One of the things that worked really well was the variety of ways that were offered to interact with NPCs. Ewigga the hag, keeps up an ruse, pretending to assist the PCs until her inevitable betrayal. The enemies in the fortress are split into factions, some of which are more than happy to ally with the PCs if it means getting a leg up on the other factions. These additions made the game far more memorable that if those same enemies were only set to attack.
Another strength of this chapter, and an area where is improved upon its predecessor, is dungeon design. The Vault of Thorns, a druid demi-plane forgotten by time, was a thoroughly memorable location. It had interesting environmental challenges, such as the floating lily pads that dropped if too much weight was put upon them and the bridge that hovered over the ominous jungle below. I was also impressed with the design of the fortress. Infiltrating a fortress is a bit of a "been there, done that" type of task for my players, based on some of the other adventures we have played. However, the dark backstory of the cannibalistic former castellan, the horrifying haunts that manifested as a result and the corrosive effect that this was having on the fortress's current occupants, did a great job of adding a new twist to an old mission.
As for weaknesses, I personally found the first part of the adventure, where the PCs travel to the Ghostlight Marsh on the keelboat to be a bit lackluster. The jobs on the boat provided some possibilities for roleplaying, but the daily rolls to resolve them became a bit tedious, so I phased them out over time. Still, my biggest complaint with the section is that it felt like a string of random encounters, instead of a cohesive part of the story. So, while there were a few interesting NPCs and encounters, it overall felt like filler.
The other major issue I had with this book, like with the first book, was how deadly it was. I killed three PC in this chapter, as well as one allied NPC (which would have almost certainly been a PC death had the NPC not been there). There were several near TPKs, as well as a few encounter the PC had to outright run from. On the one hand, there is interesting RP to be had in a game where every mission feels genuinely dangerous and are only completed with high cost. However, the constant turnover of character does put a strain on the game. Currently we only have one character left from the original party, which means we have to work hard every time there is a new character to explain why anyone is still doing this mission. The game has had to be halted to introduce new characters whenever someone dies, because they have no hope they can survive any encounters with less than their intended numbers. Also, it is harder for the PCs to get attached to characters that seem likely to perish. This is unfortunate for my table where the players explicitly chose an adventure path over modules because they prefer developing their characters over a long period of time.
The final issue that I had was with the third part of the adventure. As the GM, the fortress seems very well written. It has a lot of exploitable weakness and there is more than one way that a party can get inside without too much trouble. However, I realized while running that from the player's perspective, sending four people to take out the leader of a fortress seems like a suicide mission. None of the weaknesses are immediately obvious without doing some scouting. Unfortunately, the first scout our party sent swam up the river and got killed within two round by the Giant Gar. My PCs spent a lot of time outside of the fortress getting increasingly frustrated with how impossible it seemed. The adventure path sort of expects you to jump in and find all the secrets. However, the overall deadliness of the previous encounters didn't encourage a level of trust in my players that approaching wouldn't just result in a TPK. Eventually, with a lot of nudging and reassuring they got to the information they needed, but this roadblock came dangerously close to making them give up.
Overall, my attitude to The Hill Giant's Pledge is very similar to the first book. There is some great material in there and it certainly isn't so bad that I would recommend people not play it. Players who enjoy high lethality will probably love it. However, I would hesitate to recommend it to a party of beginners or anyone who prefers less lethality in their game.
Good adventure
Read my full review on Of Dice and Pen .
The second part of the Giantslayer Adventure Path, The Hill Giant's Pledge by Larry Wilhelm contains a wide assortment of interesting NPCs (both villains and allies), each with fairly detailed back-stories and motivations. It makes for a wonderfully dynamic adventure that can play out in a multitude of different ways depending on what the PCs do. There are a couple of inconsistencies here and there that don't work quite so well, but on the whole, it's a very good continuation of the adventure path.
A mix of different things
The second book continues quite well from the first book even though it's kind of a mixed bag why they would send a small group to take over an entire fort.
I liked the march and the Vault of Thorns as locations and there's a diverse mix of encounters in this part of the AP. The boat ride can depend a lot on the group but for us it was kinda neutral thing. There's a few NPC:s you can get to help your party which is a nice plus.
For negatives I kinda expected something more out of the Vault of Thorns loot. The Fort was an alright locale but if the PC:s head straight to the top it can be very brutal. Also starting from the end of this book the hook points towards the next place just use the same idea to get you to move forward.
Much more than giant slaying
As a quick summary, the three parts of the adventure are diverse and well-thought. The last part is rather difficult to prepare, but it's worth the hassle. There are some giants of different types, although we faced enough other opponents to don't get bored. It's not just hack'n'slay, the group meets a few interesting neutral / friendly NPCs in each part. Some encounters feel a bit tacked on or dull, so I give 4 of 5 stars.
Spoiler: It starts well, with some hints how to deal with enchanted giants and oversized weapons and armor. The first third of the adventure consists of a boat journey with very diverse challenges (probably too diverse for some tastes) and much roleplay potential with the crew. My group learned to like the grumpy captain and enjoyed roleplaying their work on the ship.
The marsh and vault were ok. I am not a big fan of fey (anklebiters, don't feel like worthy foes), so I spiced it up with a succubus causing havoc all over the vault. Some of the original encounters were still good though, especially the rough fight against a big plant creature. The reward was disappointing, so I replaced it with custom weapon upgrades (giant bane makes a difference).
Phew, the fort. I had quite some trouble to prepare it, given the many rooms and especially the connections between them. The room numbering is quite confusing, and I am not so fond of the risk that the party encounters the boss very early. After printing the map and putting notes on it I finally got it handled. The feuding factions are an awesome concept, the friendly NPCs are good and the fort has potential for several good battles.
Can't say much about the additional content (missions in the area, drake ecology, pathfinder journal, bestiary) - it was an ok read, but didn't find its way into the actual play.
I have some general issues with the format of the AP books:
Spoiler: First, the adventure could have used more distinct markers for its three sections. Second, new sections and subsections simply begin wherever the last unit ended. So it's easy to miss them, and you have to flip pages more than necessary. I really prefer the Bestiary format here, even if it needs heavy use of extra text, images and sidebars to start new content at a new page. Finally (and most importantly), some information is scattered all over the book. Major information about the boss can be found at page 7, 34, 39, 55 and 60 - that's quite annoying, especially when reading the PDF.
Good adventure but ulnae cover art
I enjoyed this adventure. The story arc has three distinct and interesting parts that allow for the characters to gather some experience and find their way to the hill giant fort. I think the fort itself is a real challenge as it involves a lot of moving parts, yet that can be managed with a good GM. I felt a little overwhelmed, but was able to make it work once the characters found an approach to it that made sense.
My only complaint is the cover art. As I said in my review of the first installment of this path, the art is over the top. Why hill giants need be deformed and so ugly I do not understand. They are humanoids not inbred freaks. Ogres already have the honor of being freakish on Galorian and the giantess on the front of this book is so bizarre looking that it makes it utterly improbable that she was leading anyone in some great vision of hers. I do not get why it needs to be this way. It is not inspiring, nor scary, just sort of freak show sad. It made for a far more pathetic looking enemy than my players thought they were dealing with. So I did to show it to them.

Announced! Cover image and description are not final.

Ah, now I know what was missing from Paizo's art.

MORE GIANTS PLEASE!
And hopefully they put ogres in here as well.

An article on the ecology of drakes, can't wait.

Kudos to Larry on his first AP assignment. Way to go, Wilhelm!

Larry Wilhelm writing an AP installment?
*cue happy dance*
ƪ(˘⌣˘)┐ ƪ(˘⌣˘)ʃ ┌(˘⌣˘)ʃ

Wow, yes, congratulations Larry! Can't wait to read about the elevated train-car waterfall race! :)
I wonder if this means we will get a new type of drake or some other kinds of dragons in this AP.
Oh, yes, yes, yes... :) Looking forward to this one!

this sounds good! i can't wait:)

Hm, drake ecology? Not too interested in the AP itself, but I may pick this up for that!

Riverboats, Giants & Drakes... Oh my!
Cannae wait for this AP either :)
"the hill giant chieftain Grenseldek did not recover the treasures of the tomb beneath the besieged town of Trunau, and she will never rest until she has made them her own."
+1 for the villain being female. Not to nit-pick but shouldn't it read, "the hill giantess chieftain Grenseldek... ?
Giant is a gender neutral term.
You don't say humaness or elvette, after all.
Although "Elvette" just made it onto the list of made up names in my head.

Its got Munguk from Kingmaker on the cover!!! He was a fun add to the party.

Does this mean we might actually get a proper female hill giant miniature? I don't think anybody has ever done that before. I'm kind of excited by that prospect alone.
Product image and description updated to final.
Saw the Hill Giant on the cover. Wow. All I'm gonna say.
Is she a mutant hill giant or some other kind of template?
Nice, a host of new monsters not just four and an article on drakes.

Yeah. That's what I was looking at too guys...
I think i found my date for Saturday night ;-p

Highest level of violence on an AP cover to date?
Not a complaint, just a question.

Highest level of violence on an AP cover to date? Not a complaint, just a question.

This issue contains drakes.
Freehold will purchase.

PHEW! I was afraid we're going to see a female nipple there and have millions of innocent children at risk, but fortunately, Paizo dodges artfully the bullet once again. :-P

"the hill giant chieftain Grenseldek did not recover the treasures of the tomb beneath the besieged town of Trunau, and she will never rest until she has made them her own." +1 for the villain being female. Not to nit-pick but shouldn't it read, "the hill giantess chieftain Grenseldek... ?
Who is Larry Wilhelm? have we seen anything by him before?
Also, count me in with those curious about what's going on with that Hill Giant at the front. Her arms seem weirdly long and her head too tiny. Is she really a hill giant or something new?
On the topic, Lord Snow, don't you think the hill giant lady on the cover is standing in ... a completely unnatural ... oversexualized ... exploitative ... manner? I mean, what women strike such a pose? :P

is there a little bit of ogre on that hill giant?
Anyho, nope. Pose is fine, and I can imagine an actual person (monstrous, but with some sort of personality) wearing that outfit and looking like that. Unlike what I found to be the extreme, uncharacteristic to Paizo case of the woman on the cover of the adventure from Mummy's Mask.
I know you refuse to acknowledge the fact, but my issues with that cover had nothing to do with any sort of prudishness. I just found it to be a considerably more blunt objectification than what the great standards of Paizo got me used to. It was less about "nudity" (how can a two dimensional smear of paint even be nude) and more about the overly sexual pose that turned what should have been a sexy, mysterious masked spellcaster into a juvenile male fantasy. I think that is the kind of thing that could make a person less willing to try the game or at the very least make the game seem like less than it really is.
In the context of this cover, I didn't even think about it in those terms until you brought that up.
Though for serious the cover is good and it's nice to see lady villains who aren't turbo sex.
No, no, tight underwear on men = gay or European ... wait, that's all evil when you think of it.

Is this really scheduled for April? Isn't book 2 supposed to be out in March?

Ugh 9 weeks/63 days between part 1 and 2 is pretty long.

I know you refuse to acknowledge the fact, but my issues with that cover had nothing to do with any sort of prudishness. I just found it to be a considerably more blunt objectification than what the great standards of Paizo got me used to. It was less about "nudity" (how can a two dimensional smear of paint even be nude) and more about the overly sexual pose that turned what should have been a sexy, mysterious masked spellcaster into a juvenile male fantasy . I think that is the kind of thing that could make a person less willing to try the game or at the very least make the game seem like less than it really is.

Drakes and Hill Giants? No thank you, will still get it to get my collection complete, but those monsters aren't my favorites.
I take it we get a new (environmental/elemental/whatever) drake in the bestiary, some giant template and hopefully something mythological this time.

Any updates on the status of this? Wow is this thing behind schedule.

According to THIS thread, the book is currently on course for an April release.
Ah, thanks.
Will April get a double release or are the other installments getting pushed back?
According to THIS thread, June will get a double release.
Crosses fingers Soon!
When someone gets there PDF, can they tell us what the monsters are in the bestiary?

So anyone got there subscriber Pdf copy yet?

I am so enjoying reading this AP. Too bad I cant find a group to run me through it. :(

Spoiler: Brambleblight, a CR 7 N Large plant - has a nasty blight aura that infects the landscape with its decay
Thanks for the info Kvantum:)
Wow spoiler: a new Protean, LN fey, plant creature, and cat based magical beast all in the same AP
So which Iconic is in the bestiary art for this one?
February 15, 2023
The Asteroid Blast That Shook the World Is Still Making an Impact
The Chelyabinsk asteroid slammed into Earth's atmosphere 10 years ago, the largest impact in more than a century
By Phil Plait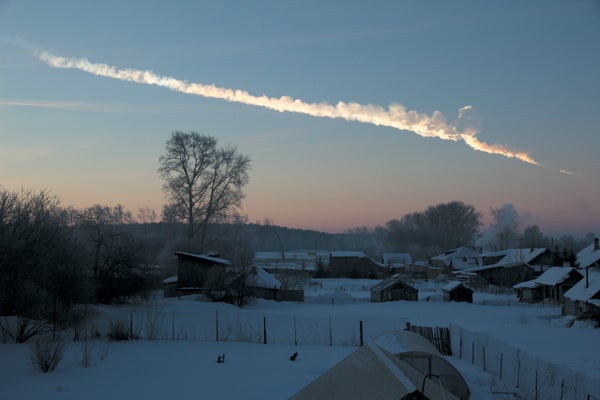 Contrails left by the Chelyabinsk meteor over Russia.
Alex Alishevskikh
Ten years ago, as the sun rose over Chelyabinsk, Russia, the sky exploded.
On February 15, 2013, an asteroid slammed into Earth's atmosphere at nearly 70,000 kilometers per hour. Almost the size of a tennis court, it blazed brilliantly in the sky as if a second sun had appeared and begun racing from southeast to northwest .
Ramming through the air at hypersonic velocities blowtorched the surface of the asteroid, which left behind a thick trail of vaporized rock as it screamed over Earth. The immense pressure started to flatten it (scientists call this "pancaking"), and the force finally overcame the asteroid some 40 kilometers above the ground. It crumbled into smaller chunks, each one still traveling at more than a dozen times the speed of a bullet fired from a rifle. These fragments also pancaked, creating a series of brief but powerful flashes of light as they heated to incandescence. The remaining pieces vaporized.
All of this happened in mere seconds, with the ultimate blow occurring when the asteroid was about 30 kilometers up. The energy of its last motion was converted into heat in an instant. The resulting huge fireball briefly outshone the sun in the sky, emitting energy equivalent to the detonation of about half a million metric tons of TNT.
The shock wave from this explosion traveled away from the blast, taking about a minute and a half to reach downtown Chelyabinsk, roughly 40 kilometers to the north. The industrial city of a million people was just starting its day when the apparition blazed across the sky. The awesome spectacle and the long, lingering vapor trail brought people outside or to their windows to see what happened—and that's when the shock wave touched down.
A tremendous thunderclap shattered windows all over the city, and flying glass was the source of most of the injuries to the roughly 1,500 people harmed in the event. Fortunately, no one was killed, and infrastructure damage was relatively minimal. Had the asteroid been bigger or made of metal or if it had plunged downward at a steeper angle, this story could have been quite different, the aftermath far more severe.
Chelyabinsk was a wake-up alarm for Earth —a loud one.
It was also a major learning experience for scientists, as it was the largest known atmospheric impact since the Tunguska bolide in 1908 . The asteroid's smoking trail was viewed by satellites as well as by thousands of eyewitnesses and cameras. Meteorites rained widely, including one monster half-ton chunk 1.5 meters across that plunged into a frozen lake and was later recovered. There's even security-camera footage of that piece crashing, creating a dramatic plume of snow and water shooting up into the air.
The meteorites recovered from the event revealed the asteroid's violent history . Shock veins riddled them, leaving narrow fissures. These showed that the 19-meter-wide Chelyabinsk rock was once part of a much larger asteroid that itself had suffered an impact, which broke off the piece that smashed into Earth and cracked it throughout. Radioactive dating indicated that the first impact may have occurred as long as 4.4 billion years ago, when the solar system was less than 200 million years old. Those fissures in the Chelyabinsk rock weakened it, allowing it to more easily disintegrate high above the ground and create that massive shock wave. The ghostly fingers of an ancient deep-space impact had reached out and touched the lives of thousands of Russian people that day.
It's not clear which asteroid may have been the parent asteroid. Scientists traced the trajectory of the Chelyabinsk impactor backward into space and found consistent matches to asteroids 2007 BD7 and 2011 EO40 . One may be the parent body, but it remains uncertain.
An analysis of Chelyabinsk, together with smaller, lower-energy events, showed that these kinds of impactors affect us much more frequently than previously thought . A Chelyabinsk-size impact happens every 25 years or so, with most occurring over the ocean or wilderness areas, thankfully.
It's a bit alarming that astronomers didn't see this asteroid coming long before it hit us. But asteroids tend to be very dark, and small ones are extremely faint even when close to our planet. Just a few years earlier the four-meter-wide asteroid 2008 TC3 became the first one ever detected before striking Earth. Only six others have been discovered before impact since then, including 2023 CX1, which lit up the English Channel on February 13, 2023, as if marking the week's anniversary. All were small, posing no danger to us on the ground.
Now, after I've terrified you about impacts from these objects, comes the good news: we're getting much better at finding them. In the decade since Chelyabinsk, about 20,000 near-Earth asteroids have been discovered —more than had been found in all of history up to 2013. New survey telescopes such as Pan-STARRS and the Zwicky Transient Facility have come online, and better detection and analysis techniques have been developed that accelerated the rate of discovery. Soon the huge Vera Rubin Observatory and NASA's NEO Surveyor space mission will also significantly boost the number of known Earth-threatening asteroids.
Finding them, though, is just the first step . Doing something about them is the next. To that end, in November 2021 NASA launched the Double Asteroid Redirection Test (DART) mission, which slammed a half-ton impactor into the 170-meter-wide asteroid Dimorphos—a moon of the larger asteroid Didymos. The momentum from the collision changed the orbital period of the asteroid by more than half an hour . That was an even bigger shift than had been predicted—a vast plume of material that the impact excavated and flung away from the asteroid's surface added a kick—showing that it's possible to use such a spacecraft to alter an asteroid's trajectory.
Bigger blasts might be able to divert an incoming space rock as well. Detonating a nuclear weapon near a small asteroid could vaporize much of its surface. This hot vapor would rapidly expand, acting like rocket exhaust and pushing the asteroid into a new and, one hopes, safer trajectory. Some issues regarding this method are still fairly difficult to overcome— it's currently illegal under the Outer Space Treaty to explode nuclear devices in space, for example —but a dangerous asteroid headed our way might grease the skids a bit on a political fix.
Since the Chelyabinsk impact, two spacecraft have not only approached small asteroids but also collected samples from them; one, Hayabusa2, already dropped off its samples back at Earth, and the other, OSIRIS-REx, will do so later this year. Both asteroids, Ryugu (roughly one kilometer across) and Bennu (500 meters across), are essentially rubble piles, loose collections of small rocks held together by their own meager gravity. It's likely all small asteroids are rubble piles, which will affect how we fend them off; their weak structures mean they can absorb the impact of a spacecraft more easily. Imagine trying to punch a box of packing peanuts, and you'll get the idea. The DART mission showed, however, that copious amounts of material are ejected after a collision, and that transfer of momentum can actually increase the effect of an impact .
Chelyabinsk caught us by surprise, and although such small impacts may still sneak past our guard, we're getting better at finding potential threats from space and learning what we can do if we find one with Earth in its crosshairs. Big, dangerous asteroids are rare, yet we need only look to Meteor Crater in Arizona to see why we need to take them seriously. The explosion from that impact, estimated as 10 to 40 megatons, carved a hole more than a kilometer across in the desert about 50,000 years ago, probably devastating the plants and animals living there at the time . This might be one of the most recent large direct impacts Earth has suffered, but it won't be the last.
Unless, of course, we do something to stop them.
This is an opinion and analysis article, and the views expressed by the author or authors are not necessarily those of Scientific American.
Oops! Huge Russian meteorite breaks after it's pulled out of lake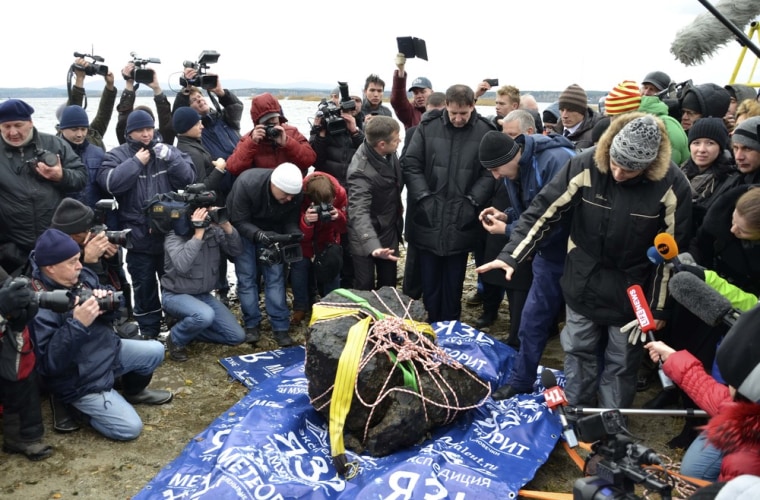 Divers raised a coffee-table-size chunk of the Chelyabinsk meteorite from its muddy home at the bottom of Russia's Lake Chebarkul on Wednesday.
The massive boulder is the largest fragment recovered so far from the Feb. 15  Russian meteor explosion  over the city of Chelyabinsk, which injured more than 1,600 people.
The blast scattered meteor shards across the region and left holes in the ice-covered Lake Chebarkul, so it was assumed that big lumps fell into the lake. Later surveys revealed rocks of potentially extraterrestrial origin, buried beneath the bottom mud.
Recovery crews have since pulled five meteorite chunks from the lake,  RT.com reported.
The 5-foot-long (1.5-meter-long) rock dragged from the depths Wednesday was 65 feet (20 meters) below the surface. After it was pulled to the surface with cables, the meteorite fragment fractured into three pieces, shown live on Russian television .
Together, the dark, craggy stones weighed more than the scale brought to the lake could read, tipping in at more than 1,250 pounds. (570 kilograms). Preliminary tests confirmed that the rocks are from the Chelyabinsk meteorite.
Pictures and video from the retrieval effort show telltale signs of the meteorite's fiery trip through the atmosphere. There's a fusion crust — a shiny, glassy layer of black material that forms when the outer portions of the rock melt. The rock also appears to have regmaglypts, shallow surface indentations that look like thumbprints.  
The Chelyabinsk meteorite is a mix of different types of ordinary chondrites, the stony meteorites that crash into Earth most often, researchers have found. The mélange inside the fragments suggests that the meteorite may have collided with another asteroid early in its history.
Researchers say the asteroid that caused the Chelyabinsk fireball was about 55 feet (17 meters) wide and weighed 10,000 tons when it streaked into Earth's atmosphere.
It hit on Feb. 15, the same day a 130-foot (40-meter) asteroid called 2012 DA14 gave Earth a close shave, missing our planet by just 17,200 miles (27,000 kilometers). The two space rocks are unrelated, experts say.
Email  Becky Oskin  or follow her  @beckyoskin . Follow us  @Spacedotcom ,  Facebook or  Google+ . Originally published on  Space.com .
All You Need About Chelyabinsk's Space Rock | Video
Russian Meteor Fragments Found, Origin Calculated | Video
Meteor Streaks Over Russia, Explodes (Photos)
Suggested Searches
Climate Change
Expedition 64
Mars perseverance
SpaceX Crew-2
International Space Station
View All Topics A-Z
Humans in Space
Earth & climate, the solar system, the universe, aeronautics, learning resources, news & events.
NASA's Lucy Surprises Again, Observes 1st-ever Contact Binary Orbiting Asteroid
First Science Images Released From ESA Mission With NASA Contributions
Watch NASA Build Its First Robotic Moon Rover
Search All NASA Missions
A to Z List of Missions
Upcoming Launches and Landings
Spaceships and Rockets
Communicating with Missions
James Webb Space Telescope
Hubble Space Telescope
Why Go to Space
Commercial Space
Destinations
Living in Space
Explore Earth Science
Earth, Our Planet
Earth Science in Action
Earth Multimedia
Earth Science Researchers
Pluto & Dwarf Planets
Asteroids, Comets & Meteors
The Kuiper Belt
The Oort Cloud
Skywatching
The Search for Life in the Universe
Black Holes
The Big Bang
Dark Energy & Dark Matter
Earth Science
Planetary Science
Astrophysics & Space Science
The Sun & Heliophysics
Biological & Physical Sciences
Lunar Science
Citizen Science
Astromaterials
Aeronautics Research
Human Space Travel Research
Science in the Air
NASA Aircraft
Flight Innovation
Supersonic Flight
Air Traffic Solutions
Green Aviation Tech
Drones & You
Technology Transfer & Spinoffs
Space Travel Technology
Technology Living in Space
Manufacturing and Materials
Science Instruments
For Kids and Students
For Educators
For Colleges and Universities
For Professionals
Science for Everyone
Requests for Exhibits, Artifacts, or Speakers
STEM Engagement at NASA
NASA's Impacts
Centers and Facilities
Directorates
Organizations
People of NASA
Internships
Our History
Doing Business with NASA
Get Involved
Aeronáutica
Ciencias Terrestres
Sistema Solar
All NASA News
Video Series on NASA+
Newsletters
Social Media
Media Resources
Upcoming Launches & Landings
Virtual Events
Sounds and Ringtones
Interactives
STEM Multimedia
NASA's Webb Telescope Improves Simulation Software
Salts and Organics Observed on Ganymede's Surface by NASA's Juno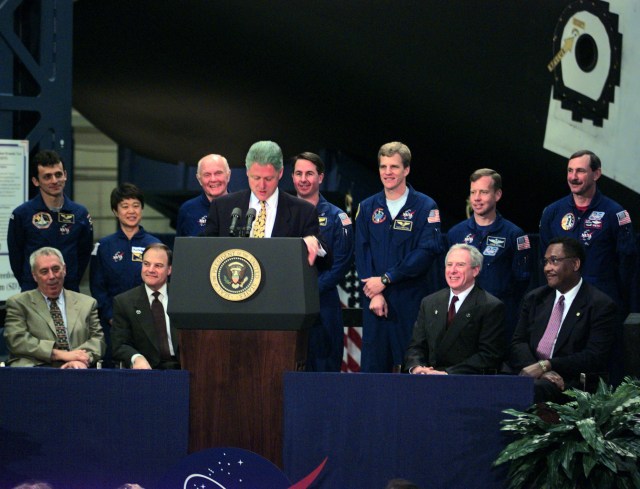 25 Years Ago: STS-95, John Glenn Returns to Space
Science in Space: Robotic Helpers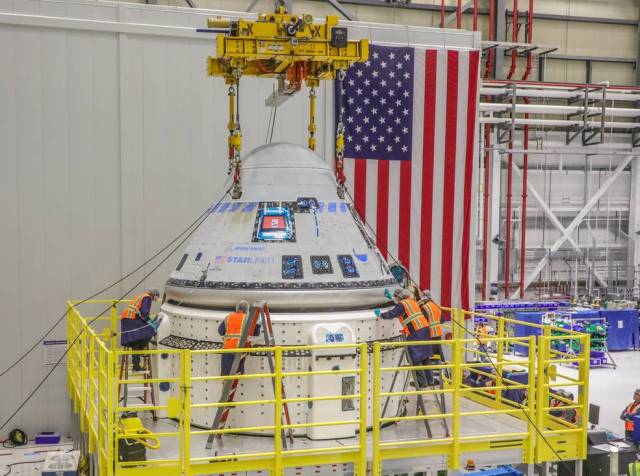 Progress Continues Toward NASA's Boeing Crew Flight Test to Station
NASA Updates Commercial Crew Planning Manifest
Powerful NASA-ISRO Earth Observing Satellite Coming Together in India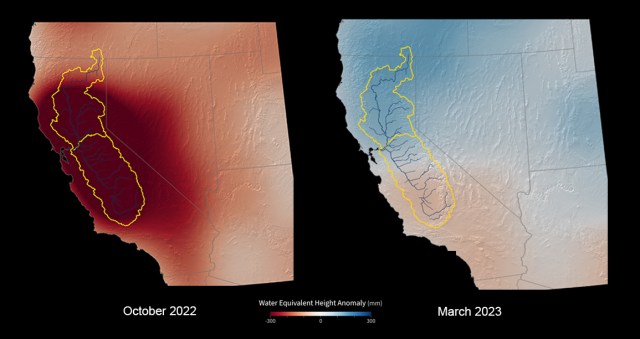 US-German Satellites Show California Water Gains After Record Winter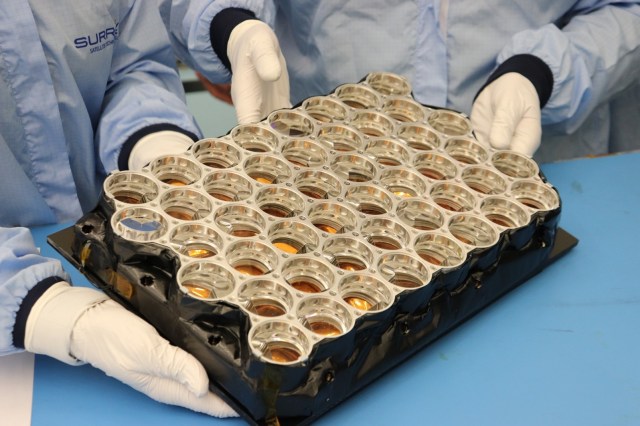 NASA Delivers First Flight Hardware to ESA for Lunar Pathfinder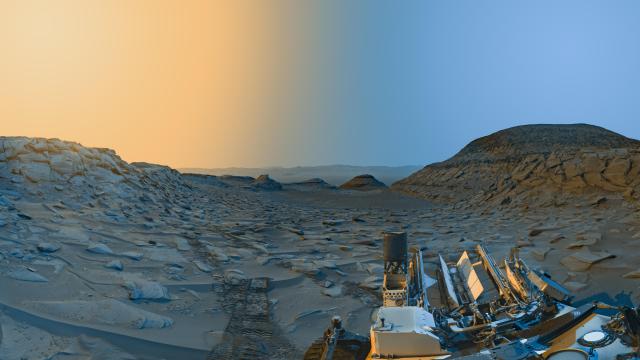 NASA's Curiosity Captures Martian Morning, Afternoon in New 'Postcard'
NASA Scientists Make First Observation of a Polar Cyclone on Uranus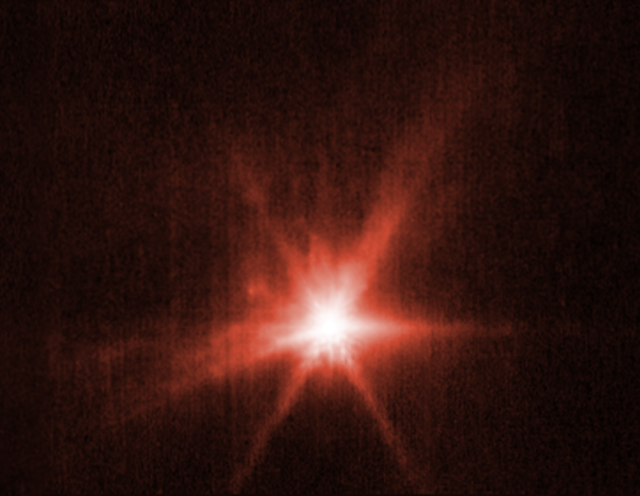 Webb, DART Missions Win AIAA 2023 Premier Awards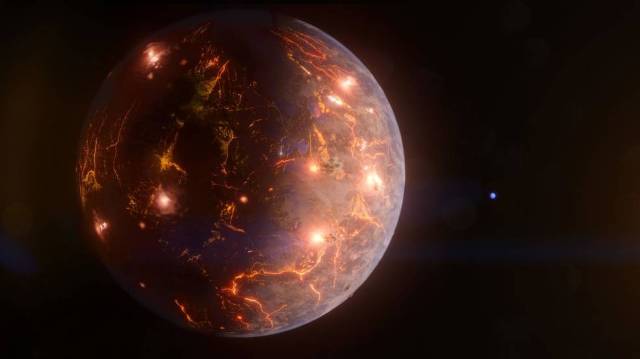 NASA's Spitzer, TESS Find Potentially Volcano-Covered Earth-Size World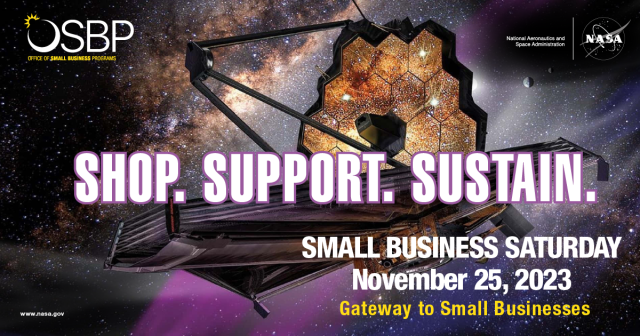 NASA OSBP Celebrates Small Business Saturday 2023
NASA to Highlight Inclusion During Bayou Classic Event 
NASA's Webb Reveals New Features in Heart of Milky Way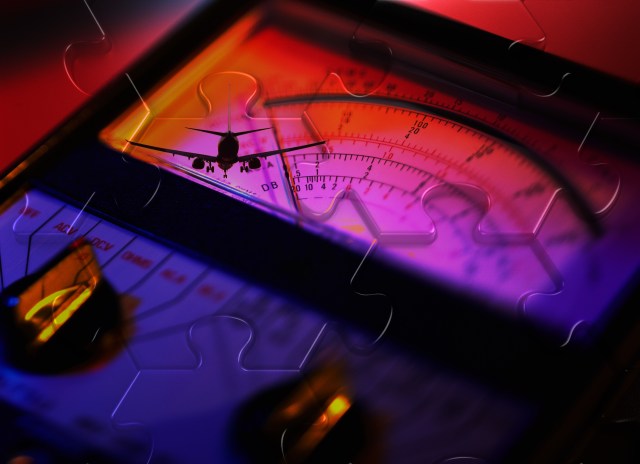 NASA Selects Awardees for New Aviation Maintenance Challenge
Modeling Turbofan Engines to Understand Aircraft Noise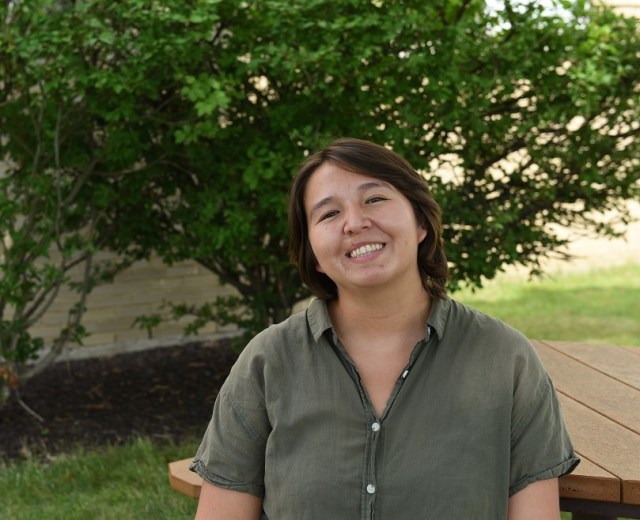 Indigenous Student Brings Skills, Perspective to NASA Internship
NASA Engineer Earns Goddard Innovation Award for Sun-studying Photon Sieves
Volunteers Worldwide Successfully Tracked NASA's Artemis I Mission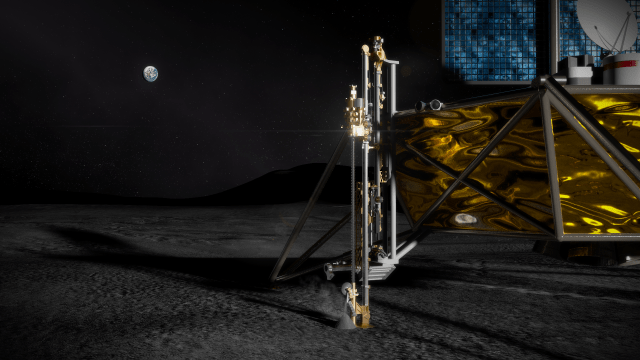 NASA Invites Stakeholders to STMD's LIFT-1 Industry Forum
Earthrise: Monthly e-Newsletter With Earth and Climate Science Resources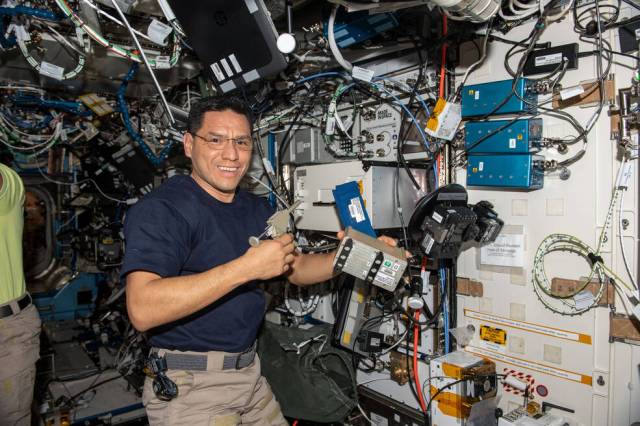 Ciencia destacada del año en el espacio del astronauta Frank Rubio
Misión récord de astronauta ayuda a planificar viajes al espacio profundo
Pruebas de la NASA con maniquí de Artemis I aportan información para futuras misiones tripuladas
Around the world in four days: nasa tracks chelyabinsk meteor plume.
Madison Arnold
Atmospheric physicist Nick Gorkavyi missed witnessing an event of the century last winter when a meteor exploded over his hometown of Chelyabinsk, Russia. From Greenbelt, Md., however, NASA's Gorkavyi and colleagues witnessed a never-before-seen view of the atmospheric aftermath of the explosion.
Shortly after dawn on Feb. 15, 2013, the meteor, or bolide, measuring 59 feet (18 meters) across and weighing 11,000 metric tons, screamed into Earth's atmosphere at 41,600 mph (18.6 kilometers per second). Burning from the friction with Earth's thin air, the space rock exploded 14.5 miles (23.3 kilometers) above Chelyabinsk.
The explosion released more than 30 times the energy from the atom bomb that destroyed Hiroshima. For comparison, the ground-impacting meteor that triggered mass extinctions, including the dinosaurs, measured about 6 miles (10 kilometers) across and released about 1 billion times the energy of the atom bomb.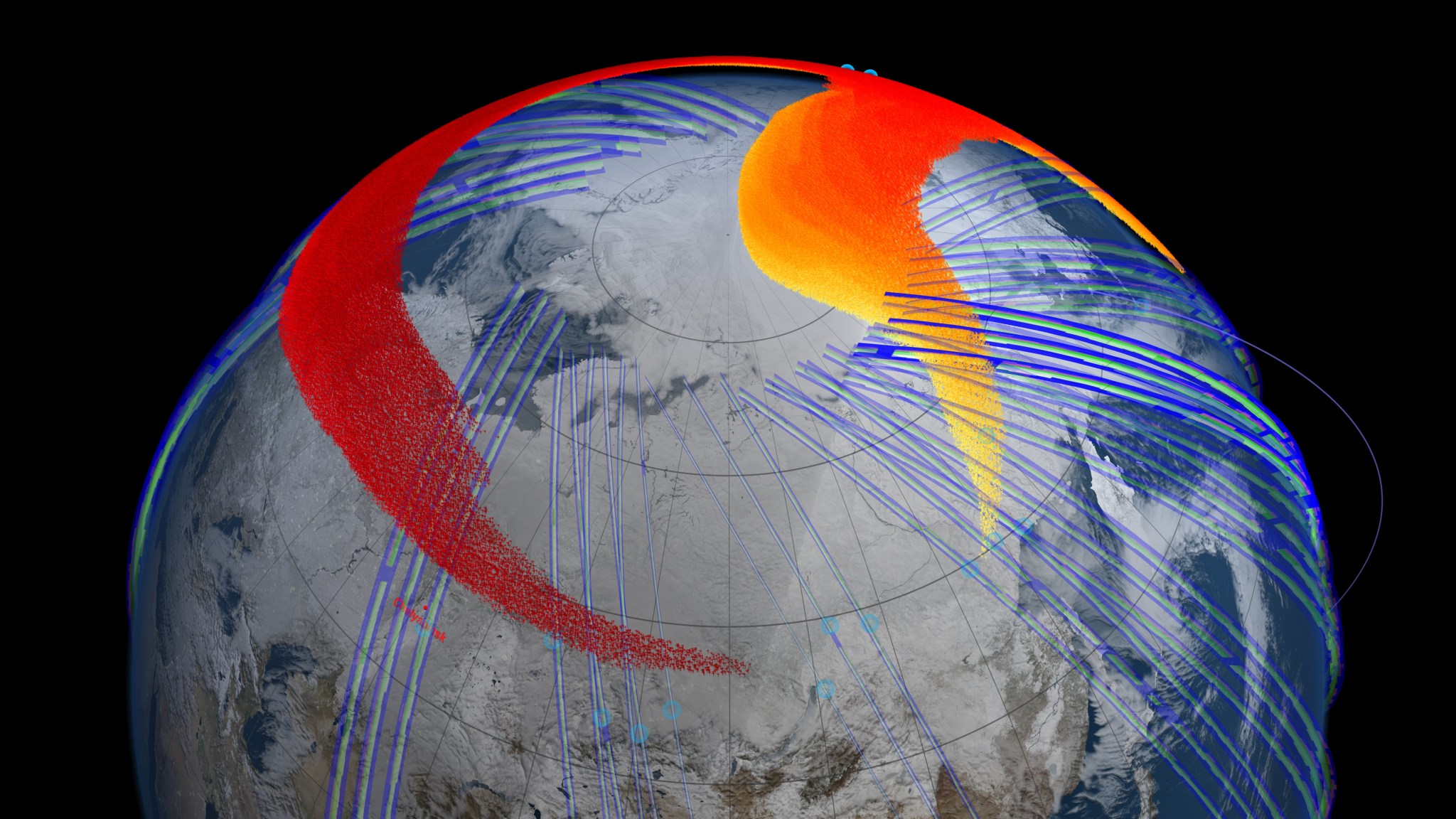 Some of the surviving pieces of the Chelyabinsk bolide fell to the ground. But the explosion also deposited hundreds of tons of dust up in the stratosphere, allowing a NASA satellite to make unprecedented measurements of how the material formed a thin but cohesive and persistent stratospheric dust belt.
"We wanted to know if our satellite could detect the meteor dust," said Gorkavyi, of NASA's Goddard Space Flight Center in Greenbelt, Md., who led the study, which has been accepted for publication in the journal Geophysical Research Letters. "Indeed, we saw the formation of a new dust belt in Earth's stratosphere, and achieved the first space-based observation of the long-term evolution of a bolide plume."
Gorkavyi and colleagues combined a series of satellite measurements with atmospheric models to simulate how the plume from the bolide explosion evolved as the stratospheric jet stream carried it around the Northern Hemisphere.
About 3.5 hours after the initial explosion, the Ozone Mapping Profiling Suite instrument's Limb Profiler on the NASA-NOAA Suomi National Polar-orbiting Partnership satellite detected the plume high in the atmosphere at an altitude of about 25 miles (40 kilometers), quickly moving east at about 190 mph (more than 300 kph).
The day after the explosion, the satellite detected the plume continuing its eastward flow in the jet and reaching the Aleutian Islands. Larger, heavier particles began to lose altitude and speed, while their smaller, lighter counterparts stayed aloft and retained speed – consistent with wind speed variations at the different altitudes.
By Feb. 19, four days after the explosion, the faster, higher portion of the plume had snaked its way entirely around the Northern Hemisphere and back to Chelyabinsk. But the plume's evolution continued: At least three months later, a detectable belt of bolide dust persisted around the planet.
The scientists' model simulations, based on the initial Suomi NPP observations and knowledge about stratospheric circulation, confirmed the observed evolution of the plume, showing agreement in location and vertical structure.
"Thirty years ago, we could only state that the plume was embedded in the stratospheric jet stream," said Paul Newman, Chief Scientist for Atmospheres. "Today, our models allow us to precisely trace [the dust from] the bolide and understand its evolution as it moves around the globe."
The full implications of the study remain to be seen. Every day, tens of metric tons of small material from space encounters Earth and is suspended high in the atmosphere. Even with the addition of the Chelyabinsk debris, the environment there remains relatively clean. Particles are small and sparse, in contrast to a stratospheric layer just below where abundant natural aerosols from volcanoes and other sources collect.
Still, with satellite technology now capable of more precisely measuring tiny atmospheric particles, scientists can embark on new studies in high-altitude atmospheric physics. How common are previously unobservable bolide events? How might this debris influence stratospheric and mesospheric clouds?
Scientists previously knew that debris from an exploded bolide could make it high into the atmosphere. In 2004, scientists on the ground in Antarctica made a single lidar observation of the plume from a 1,000-ton bolide.
"But now in the space age, with all of this technology, we can achieve a very different level of understanding of injection and evolution of meteor dust in atmosphere," Gorkavyi said. "Of course, the Chelyabinsk bolide is much smaller than the 'dinosaurs killer,' and this is good: We have the unique opportunity to safely study a potentially very dangerous type of event."
By Kathryn Hansen NASA's Earth Science News Team
We have moved to Warcraft Wiki. Click here for information and the new URL.

Marshlight Lake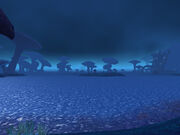 Marshlight Lake is a vast lake in western Zangarmarsh . There is a Portal Clearing on the west banks of the lake.
External links [ ]
1 Anduin Wrynn
2 Xal'atath
3 Iridikron
This film portrait of modern dance legend Martha Graham examines the creative process, as well as important events in Martha's pioneering career. Plays thematically with time and memory, usi... Read all This film portrait of modern dance legend Martha Graham examines the creative process, as well as important events in Martha's pioneering career. Plays thematically with time and memory, using the actual words of Martha Graham who emerges as a passionate, controversial and egotis... Read all This film portrait of modern dance legend Martha Graham examines the creative process, as well as important events in Martha's pioneering career. Plays thematically with time and memory, using the actual words of Martha Graham who emerges as a passionate, controversial and egotistical modernist icon that she was.
Christopher Herrmann
Penny Fearon
Richard Move
Ann Magnuson
Debbie Harry
16 User reviews
3 Critic reviews
46 Metascore
(as Deborah Harry)
Isamu Noguchi
Erick Hawkins
Helen Keller
Central Park Drag Queen
(as Flotilla DeBarge)
Dancer - The Furies
Liza Minnelli
All cast & crew
Production, box office & more at IMDbPro
More like this
User reviews 16
lyle-saunders
Feb 6, 2005
May 8, 2003 (United States)
United States
Official site
Mannic Productions
See more company credits at IMDbPro
Technical specs
Runtime 1 hour 20 minutes
Related news
Contribute to this page.
See more gaps
Learn more about contributing
More to explore
Recently viewed
ABBREVIATIONS
BIOGRAPHIES
CALCULATORS
CONVERSIONS
DEFINITIONS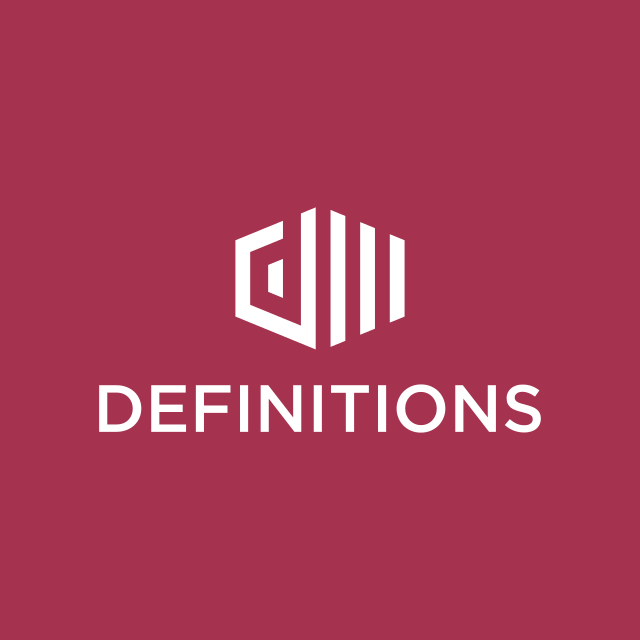 Vocabulary
What does marshlight mean?
Definitions for marshlight marsh·light, this dictionary definitions page includes all the possible meanings, example usage and translations of the word marshlight ., how to pronounce marshlight.
Alex US English David US English Mark US English Daniel British Libby British Mia British Karen Australian Hayley Australian Natasha Australian Veena Indian Priya Indian Neerja Indian Zira US English Oliver British Wendy British Fred US English Tessa South African
How to say marshlight in sign language?
Chaldean Numerology
The numerical value of marshlight in Chaldean Numerology is: 4
Pythagorean Numerology
The numerical value of marshlight in Pythagorean Numerology is: 7
Translations for marshlight
From our multilingual translation dictionary.
marshlight Spanish
marshlight Italian
マーシュライト Japanese
marshlight Portuguese
marshlight Turkish
Word of the Day
Would you like us to send you a free new word definition delivered to your inbox daily.
Please enter your email address:
Citation
Use the citation below to add this definition to your bibliography:.
Style: MLA Chicago APA
"marshlight." Definitions.net. STANDS4 LLC, 2023. Web. 20 Nov. 2023. < https://www.definitions.net/definition/marshlight >.

Discuss these marshlight definitions with the community:
Report Comment
We're doing our best to make sure our content is useful, accurate and safe. If by any chance you spot an inappropriate comment while navigating through our website please use this form to let us know, and we'll take care of it shortly.
You need to be logged in to favorite .
Create a new account.
Your name: * Required
Your email address: * Required
Pick a user name: * Required
Username: * Required
Password: * Required
Forgot your password? Retrieve it
Are we missing a good definition for marshlight ? Don't keep it to yourself...
Image credit, the web's largest resource for, definitions & translations, a member of the stands4 network.
Free, no signup required :
Add to chrome, add to firefox, browse definitions.net, are you a words master, any of a class of organic compounds containing the cyano radical -cn.
A. contempt
B. hodgepodge
C. nitrile
D. ternion
Nearby & related entries:
marshland noun
marshmallow noun
marshmallow creme
marshmallow fluff noun
marshmallow world
Alternative searches for marshlight :
Search for marshlight on Amazon
Search for marshlight on Google

This page contains spoilers for the following products : The Hill Giant's Pledge . You can disable this banner in your personal preferences .
Ghostlight Marsh , 1 sometimes called the Ghostlake Marsh , 2 † is a swamp surrounding the joining of the Esk and Kestrel rivers 3 that is named for the will-o'-wisps dwelling within its murky depths. 4 5
The marsh is comprised of swampland stretching along the River Esk's banks and is known for its unsettling floating lights. It spans the border between the Hold of Belkzen and Lastwall , and orcs and humans alike avoid it. 6
The will-o'-wisps have not always been a part of the marsh. In fact, they are the results of a single great sacrifice made within the marsh in 4237 AR , when the orcs of the Hold of Belkzen pushed their southern borders further into Lastwall . While most fled in the face of the orc horde, a few stood fast in defense of their homeland. One of these groups was the druidic Council of Thorns , who opposed the devastation the orcs were wreaking on the land. 4 6
They were gradually forced back to the swamp between the Flood Road and the River Esk , and their final act was to sacrifice themselves in a bloody ritual. As their blood mingled with the swamp water, dozens of lights rose from the murky swamp. Those lights were the Council of Thorns reincarnated as will-o'-wisps who have guarded the Ghostlight Marsh ever since, although rumor has it they do not attack those well attuned to nature. 4 6 The will-o'-wisps retained memories from their former lives as druids. 6
An entrance to the Vault of Thorns , a demiplane of the Council of Thorns, lies within the marsh. A ghostlight lantern can guide travelers to the entrance if imbued with the light from a dead will-o'-wisp's husk. 3
↑ James Jacobs et al . (2011). "The Inner Sea". The Inner Sea World Guide , p. 100. Paizo Publishing, LLC . ISBN 978-1-60125-269-2
↑ Gareth Hanrahan , Steve Kenson , Patrick Renie , Tork Shaw , and Jerome Virnich . (2012). Knights of the Inner Sea , p. 10. Paizo Publishing, LLC . ISBN 978-1-60125-460-3
↑ 3.0 3.1 Larry Wilhelm . (2015). The Hill Giant's Pledge. The Hill Giant's Pledge , p. 7. Paizo Inc . ISBN 978-1-60125-726-0
↑ 4.0 4.1 4.2 James L. Sutter . (2008). The Hold of Belkzen. Skeletons of Scarwall , p. 61–62. Paizo Publishing, LLC . ISBN 978-1-60125-099-5
↑ Tyler Beck , Jason Garrett , Alex Greenshields , Tyler Beck , Jason Garrett , Alex Greenshields , and David Schwartz . (2014). "Belkzen Gazetteer". Belkzen, Hold of the Orc Hordes , p. 10. Paizo Inc . ISBN 978-1-60125-710-9
↑ 6.0 6.1 6.2 6.3 Larry Wilhelm . (2015). The Hill Giant's Pledge. The Hill Giant's Pledge , p. 8. Paizo Inc . ISBN 978-1-60125-726-0
Blood Plains
Blisterwell
The Foundry
Conquered Lands
Wyvernsting
Urgir (capital)
Whisperfall
Rivers & Waterways
River Esk
Kestrel River
Redwool River
Hills & Mountains
Keening Hills
Kodar Mountains
Mindspin Mountains
Skittermounds
Tusk Mountains
Whisperfall Pass
Plains & Marshes
Algid Wastes
Gap of Valballus
Other Places of Interest
Battle of the Burning Child
Battle of Lost Hope
Battle of Nine Broken Skulls
Battle of Screaming Tree
Brimstone Haruspex
Broken Shore
Cleftbone Canyon
Covenant Rock
Dretha's Cradle
Firewatch Peaks
Fort Morrine
Harchist's Blockade
Heliu's Folly
Pillars of Kreth
Raschka-Tor
Sech Nevali
Seraph's Ladder
Shadefields
The Sleeper
Table of Ralock
Tomb of the First Battle
Witchgate Forest
Arwyll Stead
Hallein Town
Roslar's Coffer
Squirestone
Three Pines Ford
Vigil   (capital)
Ghostlight Marsh
Holtgrieve Wood
Kestrel River
Lake Encarthan
Path River
Tourondel River
Castle Everstand
Castle Firrine
Dortrot Ranch
Hammer Rock
Vaishau Ruin
Articles containing spoilers
Canon conflicts
Hold of Belkzen/Geography
Lastwall/Geography
Council of Thorns/Locations
Gravelands/Geography